Where all of NWA comes together!
Hello and Welcome!

Newly built in 2020, the 11-year journey to bring Heroncrest to life was always driven by the hope that it would prove to be the best place for events in Northwest Arkansas.
​
We know that location is key for the best participation, and that higher participation increases the likelihood of achieving your organization's goals. Luckily for you, Heroncrest and its picturesque 4.5 acres sit near the Washington and Benton County line...truly the center of NWA.
Look over the following details and let us know how we can help.
Looking to host an indoor-only event in our 7,300 sqft great hall? Ideal seated banquet capacity of 600.
Looking for the best of both options? Maybe a hybrid event that utilizes our 4,000 sqft patio and the additional 6,000 sqft of manicured lawns for outdoor entertaining. Seamless ability to be inside or outside.
No exclusive audio-visual, food, or beverage use requirements; no corking fees. These savings can total $2000 to $6000 for many of our corporate and non-profit clients.

Providing you enough tables and chairs for over 1,400 guests with setup included at no additional charge. Value: $600 to $3000. We even have (128) of our own 18" by 72" training/'schoolie' tables.

Complimentary fiber optic gigabit wifi internet, from OzarksGo.

No parking fees in our private LED-lit parking lot. Our 162 spot paved parking area easily accommodates tour and shuttle buses. Overflow parking is also available.

No additional costs for setup, cleaning, security, or traffic control. Value: $2000. This includes cleaning staff that is present during the event.

Centralized location via municipal paved roads means shorter commutes for guests, lower vendor delivery charges and less chance of rentals getting damaged during delivery.

Included adaptive (color-changing) lighting that will reduce setup time and cost on decorative lighting solutions. Value: $2000. We can give the space the perfect wash of color to match your organization's brand.

Free use of our on-site scissor lift allows for easier setup and fewer rental costs. Value: $600.

Restrooms galore: 16 toilets and urinals, so no temporary services needed for larger crowds.

On-site solar electricity production and battery backup = protection in case of inclement weather.
​
$7200 minimum total value
"Heroncrest hosted Arkansas Arts Academy's Junior/Senior prom this May. The event center was beautiful and they were very accommodating and easy to work with. The kids and the chaperones had a great time. Highly recommend that you book your event with them!"
"Our guests are still gushing over the fun, versatile, and beautiful lakeside event venue @heroncrest_event! Love the many transitions and venue transformations we were able to integrate throughout the evening."
Sustainability at Heroncrest
We have a goal to divert 90% of waste from all events to be recycled and composted. We support this goal by having members of our Guests Experience Team manage and sort through all waste from events. This also provides our guests with the best possible experience, as it means a cleaner and more organized event at no additional costs.

At this time, we also produce 10% of our own solar electricity on-site, with battery storage for two days of backup power. Additional solar capacity coming this year.

We also provide 3 free electric car charging stations with prime parking for invited guests.
If your organization's goals include sustainable events,
we are your perfect partner.
7,300 sqft Great Hall, total indoor capacity: 1004

Automotive door: vehicles can be brought into the space easily

Panoramic lake views; almost 80% of Great Hall walls are glass

Electric vehicle parking: 1 Tesla and 2 Standard J1772 chargers

4,000 sqft outdoor hardscape adjacent to the main space

Fully accessible building: ramps to outdoor space and no curbs at building entry

1.5 miles from Highways 49, 112 and 412

12 hotels within 2 miles

Commercial prep kitchen with separate entry and vendor loading zone

Cleaning and setup included. Security and traffic services offered in particular instances

Adaptive custom lighting options built-in
Best experience possible
with no hidden fees
Need sample floorplans for galas, celebrates, banquets, meetings, parties, concerts or etc...just ask!
Courtney Garrett Photography
Answers
Capacity
---
Heroncrest encompasses 14,000 square feet of which the Great Hall is an open and airy 7,300 square feet that can be arranged into any of the following configurations:
Banquets and Receptions up to 700 guests

Ceremonies and Concerts up to 1000 guests

Seminars and Lectures up to 500 guests

Configurations combining any of the above can also be arranged to maximize your group's experience
Our 4,000 sq.ft. hardscaping and 8,000 sq.ft. green space, surrounded by water, allows for even greater capacity for outdoor entertaining.
---
Parking
---
Heroncrest has paved parking for 162 vehicles (including code compliant handicap accessible spaces) with two separate entrances directly off of East Lake Road.

Access routes to Heroncrest are via paved municipal roads meaning that your guests will not be traversing along dirt or gravel roads on your special day.

Heroncrest is part of our larger 20-acre estate. As such, additional on-site overflow parking is available if needed.

The parking lots are lit by led lamp posts to ensure you and your guests are able to return to your vehicles safely.

Additionally, electrical access points around the parameter of the parking lot are available for food trucks and market setups.

Private dedicated parking for vendors.

Electric car charges on-site, 1 Tesla and 2 Chargepoint.

Enough space for even large carter buses to pickup and dropoff.
---
Furniture
---
Tables - professional, heavy duty plywood with metal edges

(56) - 60" round tables
(48) - 72" x 30" rectangular tables
(128) - 72" x 18" rectangular tables. "schoolies"
(2) - 36" round cake tables with casters
(2) - 60" half-circle tables
(10) - 72" x 12" bar top risers
(20) - adjustable height cocktail tables

Chairs - contemporary, classic and elegant design

1400 chairs with immediate availability
Imported from Europe
EXCLUSIVE to Heroncrest

2 Mobile monitors
---
Bookings
---
Our pricing is based on seasonal and weekly demand; as such a specific date must be selected for a quote to be provided. Pricing starts at $5,700 for a weekday event during non-peak seasons.
A non-refundable deposit of fifty percent of the total quote is needed to reserve a date, with the final fifty percent due 30 days before the event.
We do offer discounts for Non-profits and for multi-day purchases.
Dates are reserved on a first come, first served basis.
---
Location
---
Nestled within the heart of Northwest Arkansas in the city of Elm Springs. Heroncrest sits on 4.5 lakeside acres of Elmdale Estate and is conveniently located:
1.5 miles from Highway 49, 412 and 112
1.5 miles from Macadoodles, Walmart, Hobby Lobby and Sam's Club
2 miles from 12 hotels

DoubleTree Club by Hilton Hotel Springdale
Home2 Suites by Hilton Springdale
Fairfield Inn & Suites by Marriott Springdale
Holiday Inn Springdale/Fayetteville Area
Residence Inn by Marriott Springdale
Hampton Inn & Suites Springdale
Sleep Inn & Suites Springdale West
Quality Suites
Extended Stay America - Fayetteville – Springdale
La Quinta Inn & Suites by Wyndham Springdale
Super 8 by Wyndham Springdale AR
WoodSpring Suites Springdale

10 miles from XNA airport
10 miles from the Fayetteville square
15 miles from the Bentonville square
---
Amenities
---
Dressing suites - for bridal parties or performance talent

Two fully appointed rooms with sofas, chairs and tables
Private en-suite restrooms
3-way mirrored dressing areas in both rooms

Our Commercial prep kitchen has a dedicated service entrance to ensure that your caterer's logistics won't interrupt the party. New professional equipment provided in the kitchen includes:

54" Glass Door Reach-In Refrigerator

54" Two Section Solid Door Reach-In Freezer

Double Deck Full-Size Convection Oven - 240V

(2) Full Size Insulated Heated Holding / Proofing Cabinet

Hoshizaki 466 lb. Dispensing Ice Machine

(3) 30" by 72" Stainless Steel Commercial Work Table with Undershelf

Water Pitcher filling station with inline water filtration

(2) Countertop Induction Range / Cooker - 208/240V, must be requested for use

Restrooms

Public facilities include six Women's restrooms, seven Men's restrooms along with one family restroom
A private restroom is located within each of the two suites

Free All-Fiber Gigabit Wifi Internet
---
Services
---
Any time our facility is in-use, one of our Owner's Representatives will be present.

Experience Team Members will also be in attendance throughout your event to ensure the facility remains clean and that waste from the event is disposed of according to our recycling policies. We strive to achieve at a minimum 90% of what is left after an event is either recycled or composted.
Security services are required and provided as part of your rental fee for evening events with guest counts of 250 or more and/or any event where alcohol is served (regardless of guest count or time of day).
As necessary, traffic control is provided by uniformed law enforcement officers to assist with traffic at the intersection of East Lake Road and Elm Springs Road.
---
Vendors
---
We do encourage a designated planning professional to be involved for all events.

You are welcome to use any professional and insured vendor of your choosing.
A curated list of preferred vendors can be provided upon request. We have some of the best talent in NWA and feel that engaging the right people makes all the difference.
All vendors will be required to submit a Vendor Contract and provide a current certificate of insurance prior to the event or they will not be allowed on-site.
---
Decorations
---
This space was specifically designed to be an adaptable canvas compatible with almost any clients' aesthetic. While providing an exhaustive lists of what is and is not allowed would be cumbersome, a few noteworthy restrictions include:

Nothing can be affixed to the walls without written permission from Heroncrest.
Any electrical devices must be UL approved
Any ceiling mounted décor must weigh less than one pound per square foot (two pounds per cubic foot) and the installation of such materials must be done in conjunction with Heroncrest staff.

Ceiling mounted outlets are provided throughout the Great Hall to allow for client rentals of chandeliers or other electrical décor items
A ceiling mounted track system has been designed into the Great Hall space to allow for approved wall panels or dividers to be suspended in the space to create "rooms". The system also allows for the hanging of art work, fabric, or other decorative materials within the larger space.
An electric powered scissor lift is already on site. Only allowed to be operated by a Heroncrest associate. Confirm need and use 30 days before the event.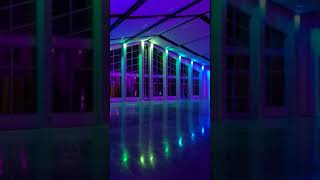 ---
Cleaning
---
The cost of general cleaning is included in the rental fee. There will be a fee added if excessive cleaning is necessary.
Clients and their vendors are responsible for removing everything that was brought in for the event.
---
Questions
---
Please contact us if you were not able to find an answer to your question in our FAQ section. inquiry@heroncrest.com Also, make sure to take a look at our spectacular digital brochure!
---
Accessibility
---
Heroncrest has been designed to be fully accessible with parking, restrooms, entries and ramps all taken into account. The public spaces are all located on one floor and are easily accessible to all guests. We want to ensure that all of your guests can fully participate in your event. Please let us know if you have any questions.
---
Tours
---
Private tours of the site are available by appointment only. Please call or email us to schedule your personal tour. Be prepared to be blown away! Inquiry@heroncrest.com 877-356-3253 Also, be sure to follow us on social media for upcoming events.
---
Discounts
---
We do offer discounts for non-profits and multi-day purchases. Contact us for more information.
---
Capabilities
---
When it comes to technology and back-of-house we have gone all in on what we are able to do. We are working on a final Tech Package that would give you and your vendors confidence in what is possible for your event at Heroncrest.
Just a few highlights:
Very fast internet with a current tested download speed of 268Mbps and upload speed of 219Mbps. This will ensure if you are planning to broadcast your event or have a lot of guests using their laptops and mobile devices that you are covered.
Two mobile monitors with teleconferencing cameras. This makes connecting with virtual guests super easy.
On site power storage array consisting of 5 Tesla Powerwalls. Also, on site solar being produced to help provide power.
Unistrut track system throughout the ceiling of the Great Hall to allow for secure hanging of just about any element you would need to elevate your event. Also, integrated electrical boxes in the ceiling that can be used to power those elements.
Two 6" conduits running the full length of the Great Hall from the south wall to the storage room at the north end. These run over 100' and allow for cabling to be run underneath the floor instead of being ran above.
---
---